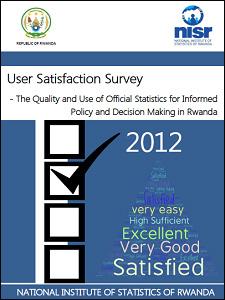 User Satisfaction Survey Report - 2012
From July to September 2012, the National Institute of Statistics of Rwanda (NISR) conducted a user satisfaction survey to understand where from and how the users access official statistics, their purpose while searching for official statistics and at what extent the available statistics help them to achieve their objectives. At the same time, the users were requested to share their views and opinions in regard with the timeliness, the quality and the dissemination of official statistics.

The user satisfaction survey targeted public and private sectors institutions, the civil society, international organizations, media and press and research and education institutions. Respondents were users of official statistics from the above mentioned institutions who came into contact with the National Institute of Statistics of Rwanda since the launch of the National Strategy for the Development of Statistics (NSDS) up to end of July 2012.
| File | Download Count |
| --- | --- |
| English (2.03 MB) | 939 |