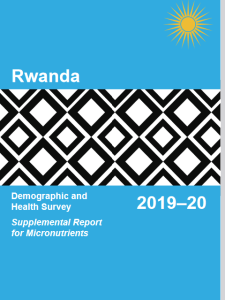 Rwanda Demographic and Health Survey 2019-20 - Supplemental Report for Micronutrients
The primary objective of the 2019–20 RDHS is to provide up-to-date estimates of basic demographic and health indicators, including estimates of micronutrient indicators. As part of the survey, blood samples were collected to measure biomarkers of inflammation, anemia, iron, vitamin A, and vitamin B12 status in children age 6–59 months and in women age 15–49. In addition, women were tested for folate (blood sample) and iodine status (urine sample). Anthropometry and malaria infection data were also collected for children age 6–59 months and women age 15–49.
The information collected through the micronutrient component is intended to assist policymakers and program managers in evaluating and designing programs and strategies for preventing and treating micronutrient deficiencies in the Rwandan population.
| File | Download Count |
| --- | --- |
| English (4.22 MB) | 28 |