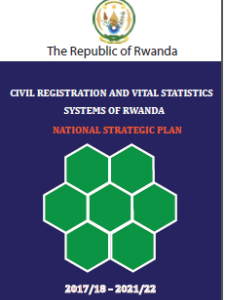 CRVS NATIONAL STRATEGIC PLAN
The mission of the desired CRVS system is "To build a modern, timely, complete and integrated CRVS system to ensure legal identity for all, good governance and evidence-based decision making for sustainable development". It envisages that by establishing a permanent, continuous, compulsory and universal vital events registration and vital statistics system the three identified strategic outcomes - Legal identity and rights for all; Good governance and accountability; and Reliable statistics - would be achieved by 2022. This people centered mission is expected to be achieved on basis of the following core values which are Excellence and Innovation (Kugira umuco wo kuba indashyikirwa no guhanga udushya); Collaboration and teamwork (Gukorera hamwe): Commitment to achieving results (Kurangiza ibyo watangiye); Transparency and accountability (Gukorera mu mucyo no kubazwa ibyo dukora), and Perceptiveness (Gushishoza).
These values will guide the day-to-day behaviour of all employees of the key stakeholders directly involved in the CRVS system.