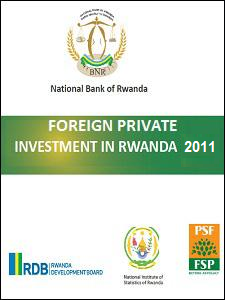 Foreign Private Capital Census Report 2011
The Government of Rwanda continues to promote a private sector-led free market economy, aiming at fostering both local and foreign investment by undertaking reforms with the objective to make the country a favorableplace for investment.
 
In an effort to effectively monitor and manage foreign private capital, the National Bank of Rwanda in collaboration with Rwanda Development Board (RDB), National Institute of Statistics of Rwanda (NISR) and Private Sector Federation (PSF) conducted the Foreign Private Capital Census, collecting data for the year 2011.
The objectives of this census include setting up the Private Capital Flows (PCF) database in conformity with international standards, and determining the magnitude and trends of Foreign Private Capital (FPC) for the 2011.
| File | Download Count |
| --- | --- |
| English (5.99 MB) | 2422 |