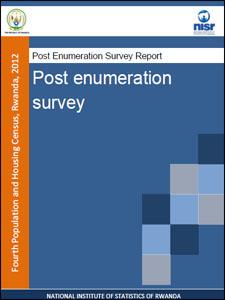 RPHC4: Post Enumeration Survey
In order to assess the extent of both types of errors in the 2012 Population and Housing Census of Rwanda, The National Institute of Statistics of Rwanda (NISR) has conducted a Post Enumeration Survey (PES), the specific objectives of which are:

1- to measure census coverage classified by individual sex, age and residence type (urban and rural);
2- to measure the contents errors pertinent to a number of selected important census variables, namely sex; age; the ability to read and write in different languages; marital status and the type of sanitation facilities available to the households.

The present report presents the results of the Post Enumeration Survey of the 2012 Population and Housing Census along with a description of the procedures and operations followed in undertaking the PES. Chapter One is devoted to the Survey Methodology, while Chapter Two deals with Evaluation of Census Coverage and Chapter three is designated to Evaluation of Census Content.
| File | Download Count |
| --- | --- |
| English (3.08 MB) | 2021 |