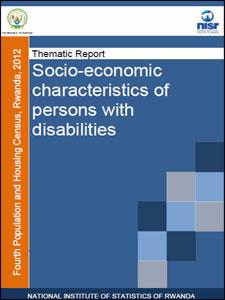 RPHC4 Thematic Report: Socio-economic Characteristics of Persons with Disabilities
This thematic report presents the findings from the Fourth Rwanda Population and Housing Census (RPHC4) on the characteristics of persons with disabilities under the following three broad headings: (i) the number, prevalence, types, and causes of disability; (ii) the demographic, social and economic characteristics of persons with disabilities; and (iii) the characteristics of household heads with disabilities and the living standards of their households.

The disability measure used in the 2012 Census is based on the International Classification of Functioning, Disability and Health (ICF) and uses the concept of activity limitations (difficulty seeing, hearing, speaking, walking/climbing and learning/concentrating) to identify persons with disabilities. Overall, 446,453 persons with disabilities aged 5 and above are living in Rwanda according to the 2012 Census, out of which 221,150 are male and 225,303 are female.

The count of persons with disabilities by province reflects the geographical distribution of the population in general, with the largest number being found in the Southern Province (122,319) and the lowest in Kigali City (32,170). For the same reason, the number of persons with disabilities is higher in rural areas than in urban areas.
| File | Download Count |
| --- | --- |
| English (6.1 MB) | 3712 |