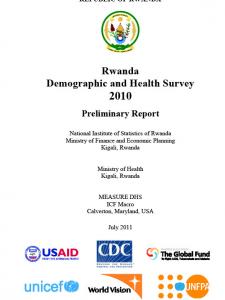 Rwanda Demographic and Health Survey 2010 - Preliminary Report
This report presents preliminary findings from the  2010 Rwanda Demographic and Health Survey (2010 RDHS). Survey findings will be used by policy makers to evaluate the demographic and health status of the  Rwandan population  in order to formulate appropriate population and health policies and programs in Rwanda. The forthcoming final report and summary report of the RDHS will contain more detailed findings.
This survey was sponsored by  the United States Agency for International Development (USAID), the United Nations Children's Fund (UNICEF), the Centers for Disease Control and 
Prevention/Global AIDS Program (CDC/GAP),  the Global Fund to fight AIDS, Tuberculosis and Malaria, the United Nations Population Fund (UNFPA), the World Vision,  and the Government of Rwanda. Technical assistance was provided by ICF Macro through the  Demographic and Health Surveys program (MEASURE DHS). The National Institute of Statistics of Rwanda (NISR) and the Ministry of Health (MOH)  were the implementing agencies of  the survey. The fieldwork for  data collection for the RDHS was conducted for about six months from September 26, 2010 to March 10, 2011; and the data entry took place from November 1, 2010 to April 21, 2011.
The main objective of the 2010 RDHS  was to obtain current information on  demography, family planning, maternal mortality, infant and child mortality, and health related information such as breastfeeding, antenatal care, delivery, children's immunization, and childhood diseases. In addition, the survey was designed  to evaluate the nutritional status of mothers and children, to measure the prevalence of anemia among women and children, and to measure the prevalence of HIV infection among the male and female adult population.
| File | Download Count |
| --- | --- |
| English (1.17 MB) | 1780 |