Rwanda's re-exports increased by 40.4 pct in 2014
Rwanda total trade increased by 4% compared to 2013. The imports increased by 3.9%, exports decreased by 2.41% while re-exports increased by 40.4%.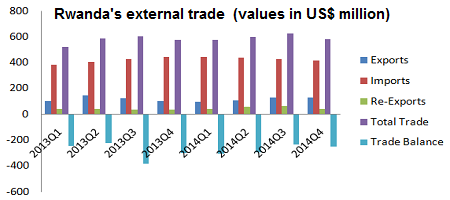 Official data show that in the year ending December 2014, Rwanda's total trade of US$ 2,370.21 million, higher by 4% compared to the year 2013 (US$ 2,276.45 million), was made up of exports worth US$ 452.82 million, imports bill valued at US$ 1,718.41 million and re-exports worth of US$ 198.99 million.

The commodity groups with the largest increases in values were 'Niobium, vanadium ores, tantalum and concentrates' (US$ 102.96 million ), ' 'Tin ores and concentrates' (US$ 71.61 million) , Coffee, not roasted, not decaffeinated' (US$ 58.04 million), 'Other black tea (fermented) and other partly fermented tea' (US$ 37.90 million) and 'Tungsten ores and concentrates (US$ 25.66 million)

For the re-exports side, the top five destinations in 2014 were: Democratic Republic of Congo, Kenya, Burundi, Ethiopia and Uganda that replaced the United Arab Emirates that was the fifth destination in 2013.
By: Emile Nshimiyimana