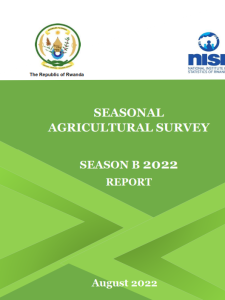 Seasonal Agricultural Survey (Season B, 2022)
NISR has conducted the Seasonal Agriculture Survey to provide more comprehensive data on the Rwandan agriculture sector. During 2022 Season B, the data collection activities started from 24th April to 30th June 2022, covering 1,200 segments and 331 large-scale farmers' holdings across the country.
The total country land area is estimated at 2.377 million hectares for which 1.393 million hectares (58.6% of total country land) are used for agriculture. Out of the total agricultural land, 1.014 million hectares were used for Seasonal crops in season B, 0.5 million hectares is the area under permanent crops, while 0.133 million ha under permanent pasture. Generally, the production of major crops increased, except for Irish potatoes and beans (a drop of 16 percent and 8 percent) respectively when compared to season B of the last year.