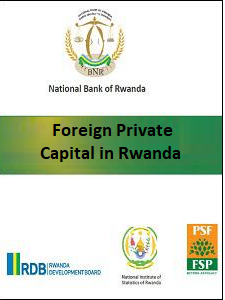 Foreign Private Capital Census Report 2017
The Rwanda Foreign Private Capital 2017 Report, is the eighth in a series of annual censuses jointly conducted by the National Bank of Rwanda, the Rwanda Development Board, the National Institute of Statistics of Rwanda and the Private Sector Federation.
The Census collected data on foreign direct investment, portfolio and foreign borrowing in resident enterprises and other variables pertaining to private sector investment. The report presents the findings of foreign private capital census that was conducted in 2017 collecting data for the year 2016.
The census covered 218 companies comprised of newly registered companies as foreign direct investments by Rwanda Development Board in 2016 and the existing companies interviewed in the previous censuses.